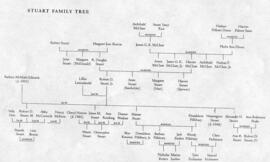 US ILfC SC/050
·
Collection
·
Predominantly 1910s to 1940s (1793-1969)
This collection consists extensively of the written correspondence and personal papers of the three generations of the McClure-Stuart family. Namely, the letters convey the conversations between groups like parent to child, sibling to sibling, and friend to friend showing one family tree, as it covers a date range spanning as early as the 1790s and ending in the late 1960s.
It contains a variety of letter types including greeting/holiday cards, postcards, business cards (ex. Quaker Oats Co. letterhead), social call cards, telegrams, wedding invites, geographical maps, posts from the war front, US Diplomatic event cards, photographs, newspaper clippings, party lists and recipes, notes of sympathy, and special keepsakes such as drawings, a pressed flower, and even clothing swatches displaying the history of the well-respected Lake Forest McClure-Stuart family.
Overall, the 2,260~ letter collection is split into three parts: 1) Boxes #1-4 Letters of Nathan Fellows Dixon (I and II), Harriet Dixon, and James G.K. & Phebe Ann (Annie) McClure, 2) Boxes #5-9 Letters of the McClure Children, Stuart Grandchildren, and Items of McClure-Stuart Memorabilia, and 3) Boxes #10-13 Letters from Assorted Friends to the McClure-Stuart Family.
An easy to read copy of the family tree appears at the beginning of this collection as JPEG image.
For more information, contact the Lake Forest College Archivist and consult the biographical sketches of the creators/main family members.
Stuart, Harriet (McClure)